Explore Group is a dynamic, innovative and sustainable tour operator offering an exciting range of marine and land based excursions in Hamilton Island and Airlie Beach in Australia, and Auckland and the Bay of Islands in New Zealand.
Starting with one America's Cup yacht based in Auckland New Zealand in 1999, we've expanded to become a successful multi-region and multi-product operation within New Zealand and Australia. Launching in Hamilton Island in 2013 and Airlie Beach in 2018, we offer a wide variety of experiences ranging from sailing to diving to dining, with each product being thoughtfully designed to showcase each location it's operating in. We're really proud of our portfolio of experiences, and aim to provide something to suit everyone and anyone. 
Our Hamilton Island and Airlie Beach experiences have become a must-do for many people visiting the Whitsundays. Our staff are incredibly proud of the place they live and are ready to show why. Their passion and enthusiasm is what sets us apart and through their input and enthusiasm we continue to share our surroundings in very special and unique ways.
Our Vision Statement
Unique Experiences in Amazing Places
Our Mission
We are passionate about, responsible for and act with integrity towards:
Our passengers and their experience
Our staff and their well-being
The environment we operate within
The community we operate within
Our company and its success 
Our Values
Responsibility means to us;
We are socially, culturally, and environmentally responsible. We take care of the marine environment to pass on to future generations. We ensure all our customers take home lasting memories of their experience. We take responsibility for our customers and fellow staff always being safe. We are accountable for our roles and deliver on our responsibilities. 
Passion means to us;
We are passionate about our products, the marine environment and its wildlife. We share our passion and knowledge as part of a professional team delivering superior value to our customers. We are proud to be a part of Explore Group and our unique history, identity and development. 
Integrity means to us;
We are consistently fair, honest and respectful to others socially and culturally. We are conscious of and respect our place of work, the marine environment. We are always striving to do our best.
Our Awards
TripAdvisor - Excellence Award 
Certificate of Excellence honors hospitality businesses that deliver consistently great service across the world. This designation is presented to approximately 10% of total businesses on TripAdvisor that have consistently achieved great reviews over the past year. We aim for our experience to be remembered with fondness and gratitude by our customers and receiving this award proves that we are achieving this goal. 
The Whitsundays Tourism Awards 2019 - Silver Award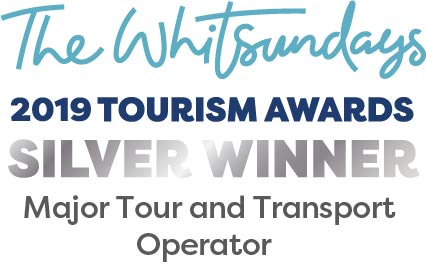 We are proud to have been awarded a silver in the Major Tour & Transport Operator category at the Whitsunday Tourism Awards in 2019. This was our first time entering the awards and to receive a silver award is something we are really proud of.